As someone who has spent two decades crafting unforgettable honeymoon experiences across the Indian Ocean and having had the privilege of staying in the most exquisite villas, I am pleased to present our curated list of the ultimate honeymoon villas.
While a spectacular villa is certainly a prerequisite for an unforgettable honeymoon, we believe that the overall experience is what truly sets these resorts apart. That's why we've selected only the most exceptional villas at resorts that offer everything from world-class wine cellars and Michelin-starred quality dining to impeccable service and a plethora of activities and excursions. Of course, each resort boasts romantic settings and experiences that are sure to leave you and your partner feeling utterly enchanted. Without further ado, here's the list!
Soneva Jani's One-bedroom Water Reserve with Slide
This magnificent overwater villa features a retractable roof that opens with the push of a button, allowing you to gaze at the stars from the comfort of your bed. With its waterslide that leads straight into the lagoon, spacious swimming pool, ample deck space, and kitchenette stocked with delicious snacks, the Water Reserve at Soneva Jani offers an unforgettable experience. We're also smitten with the resort's overwater movie theater, observatory, and superb spa.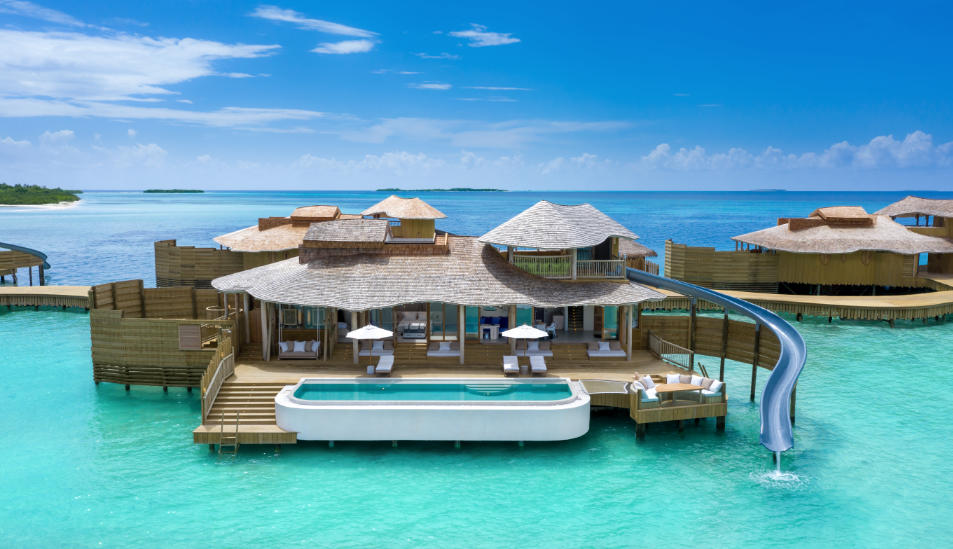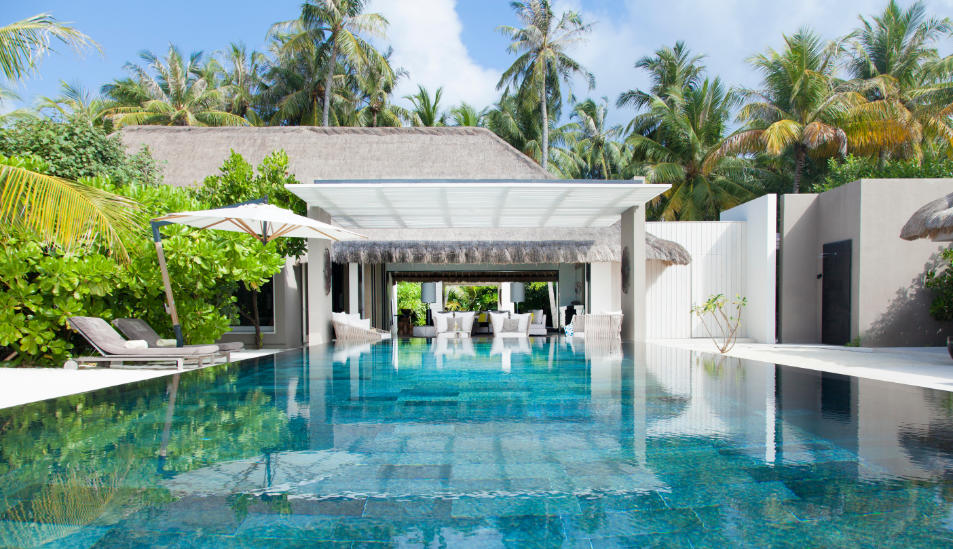 Cheval Blanc Randheli's Island Villa
Cheval Blanc Randheli is among the finest resorts in the Maldives and indeed the world. With its breathtaking villas, exquisite architecture, lush gardens and beaches, exciting activities, and world-class service and cuisine, it's no wonder that it's a favorite among our guests. We are particularly taken with the Island Villas, which are located on a pristine beach and feature an excellent design. A capacious swimming pool, garden, and opulent bathroom make this the perfect romantic retreat.

Best Food and James Bond-esque Watersports Toys
Velaa Private Island's The Romantic Residence
Accessible only by boat, this freestanding overwater villa boasts a private swimming pool, its own beach deck, direct access to the ocean, a spa treatment room, indoor and outdoor dining areas, and a luxurious bathroom. The Romantic Residence at Velaa Private Island is a rare and exclusive experience that you won't soon forget. The resort offers an impressive array of watersports toys, a multi-story wine tower, the Maldives' best chef (Gaushan De Silva), an overwater spa, and tables in the pool for enjoying cocktails at sunset.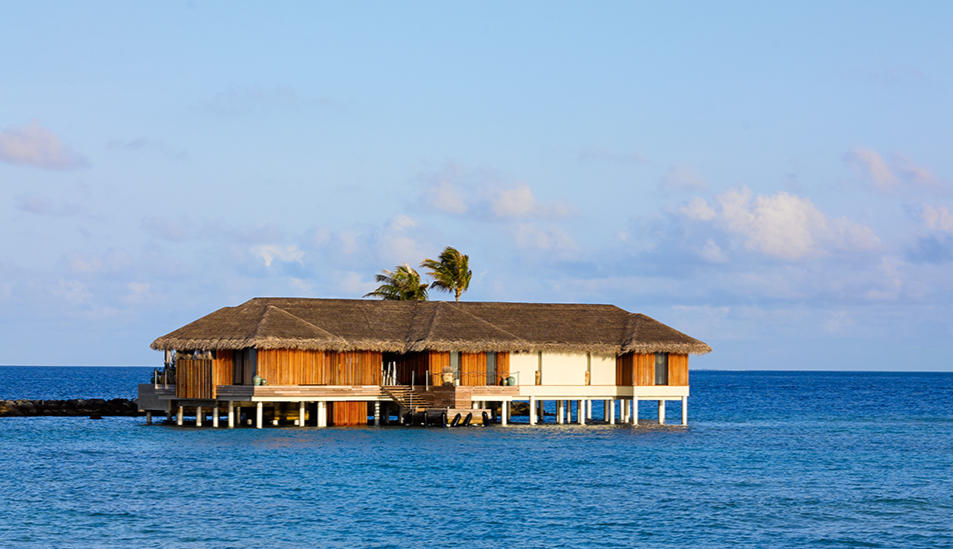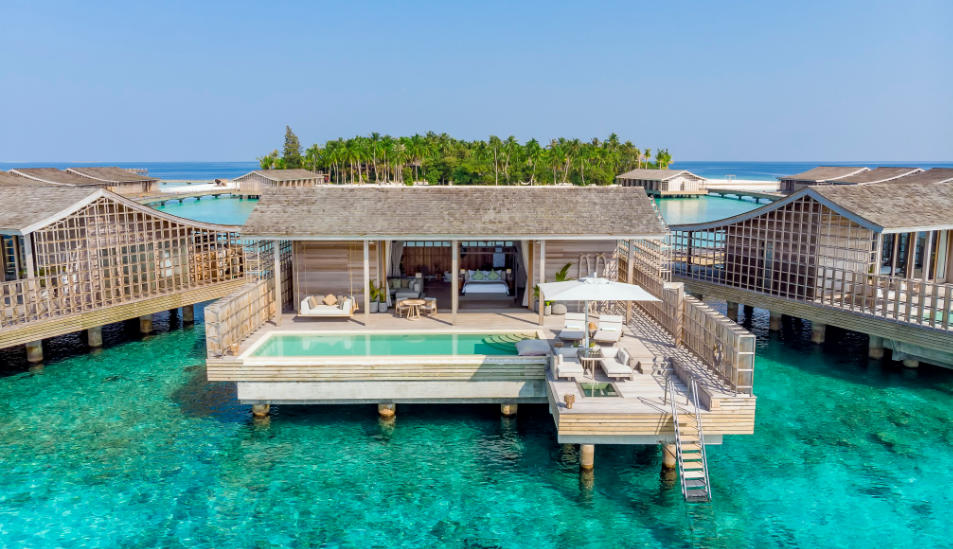 Best Adult-only All-Inclusive Resort
Kudadoo Maldives Private Island's One Bedroom Residence
With only 15 overwater villas, Kudadoo Maldives Private Island offers an extremely private all-inclusive experience where you can indulge in anything your heart desires. Whether it's a private picnic, intimate dinner setup, wine tasting, or snorkeling adventure, almost anything is possible. The villas feature access to a fantastic house reef for snorkeling, and we highly recommend experiencing the romantic underwater restaurant at neighboring Hurawalhi.

Best Barefoot Luxury Resort
North Island's Villa North Island
Also known as Villa 11, Villa North Island is a one-of-a-kind villa nestled among granite boulders at the end of the main beach. This extraordinary villa spans multiple levels and features wooden walkways leading down to the beach. The highlight of the villa is the marble bathtub for two with breathtaking ocean views. Exploring North Island and enjoying a private beach is a romantic dream! North Island is a perfect spot for seclusion and privacy.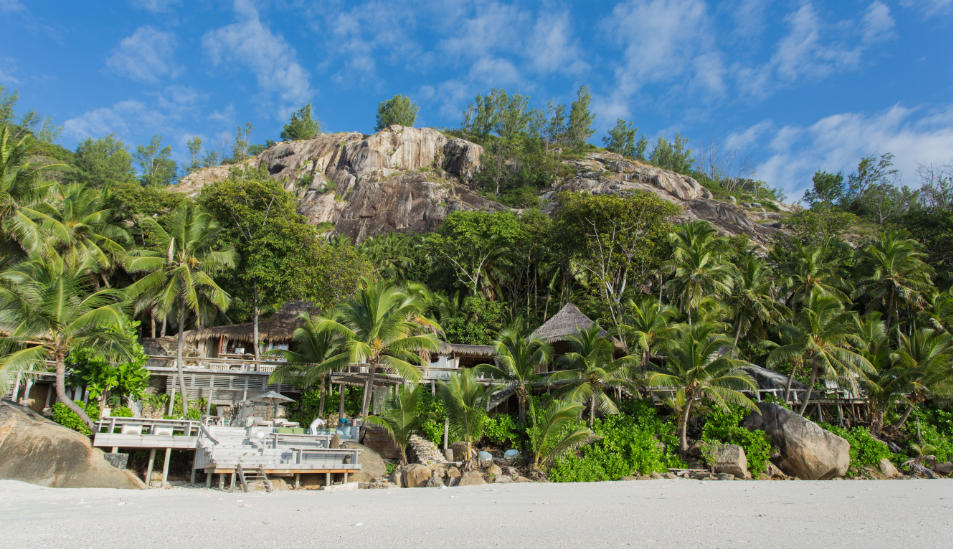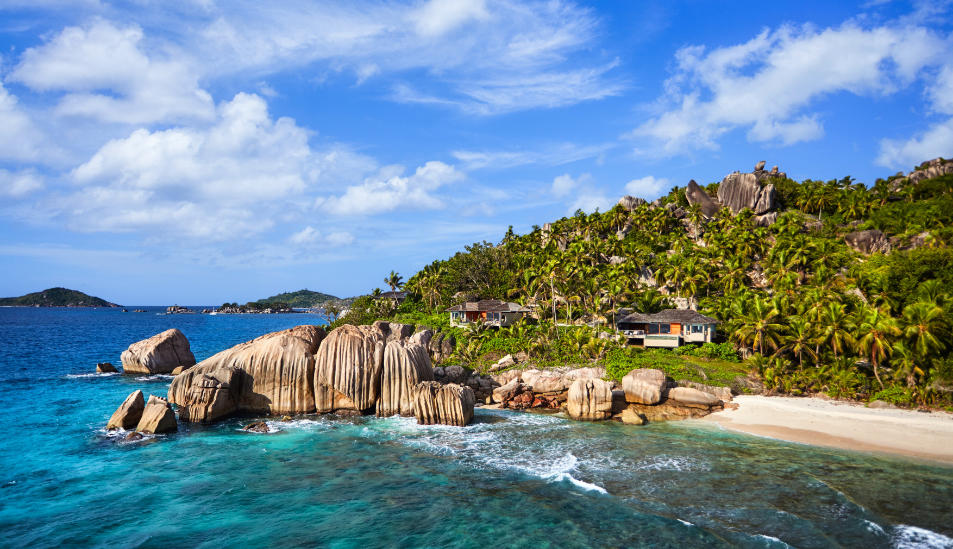 Six Senses Zil Pasyon's Pasyon Pool Villa
The Pasyon Pool Villa at Six Senses Zil Pasyon offers a truly breathtaking experience with its spacious bedroom, swing in the bathroom, and deck featuring dining and sitting areas, a large swimming pool, and sweeping panoramic views of the stunning Indian Ocean. These villas are uniquely positioned to allow honeymooners to explore the surrounding granite boulders in complete privacy. We're particularly enamored with the resort's spa, which is one of our all-time favorites in the world. Moreover, we recommend taking easy day trips to nearby La Digue Island, which boasts one of the world's best beaches.

Uga Ulagalla's Deluxe One-Bedroom Pool Villa
Located in Sri Lanka's cultural triangle, Uga Ulagalla is in close proximity to four UNESCO World Heritage Sites. Our favorite activity in the area is hiking up to Sigiriya, but there are plenty of other cultural treasures to discover, including a cave-temple complex, ancient cities, and the opportunity to engage with friendly locals. The resort's luxurious villas are exquisite, providing a perfect place to relax after a day of exploring. We strongly recommend adding an extra day or two to your stay here as the villa and resort are so beautiful.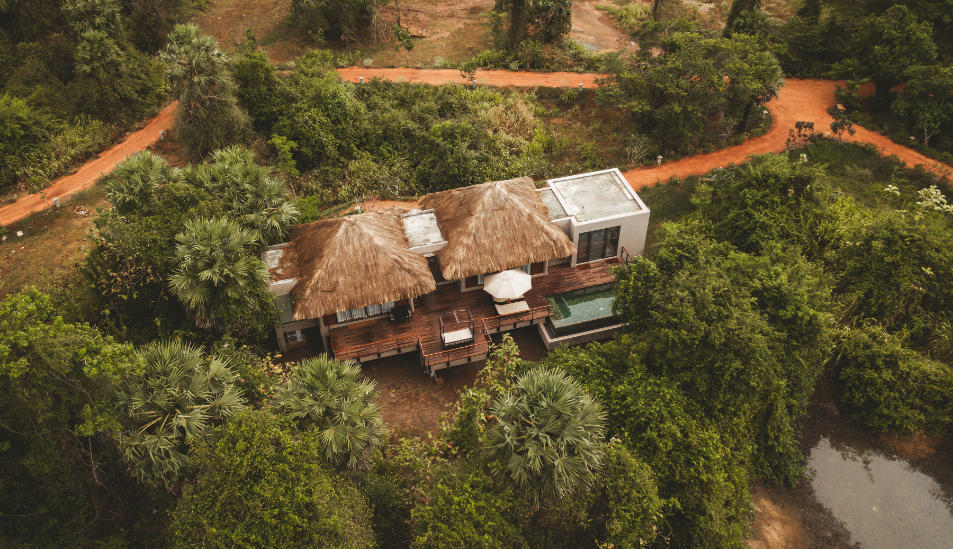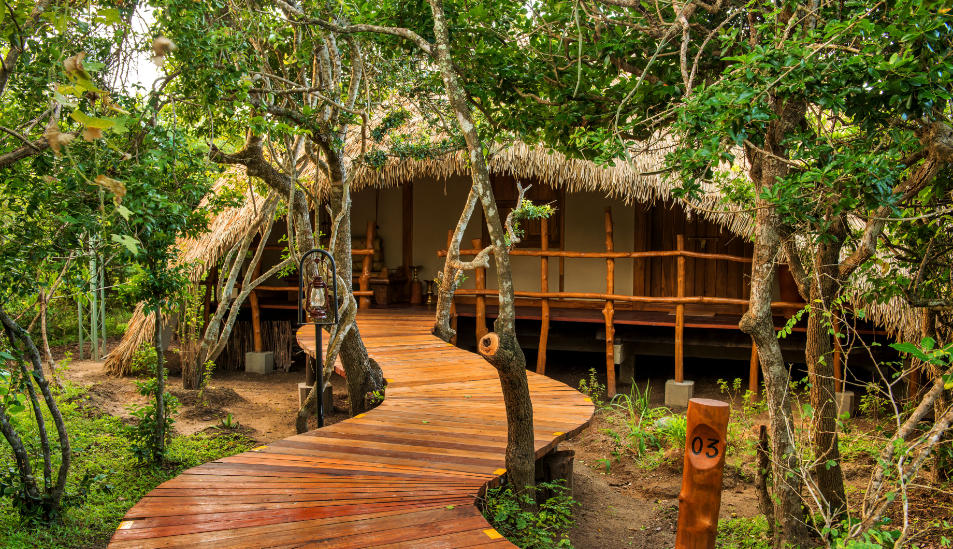 Uga Chena Huts' Luxury Cabin
Did you know that you can enjoy a safari experience in the Indian Ocean? Yala National Park in Sri Lanka is home to the world's highest density of leopards, along with sloth bears, elephants, and many other fascinating species. Chena Huts, located on the park's border, offers the ideal location to experience this stunning wildlife. You might even spot an elephant strolling along the beach during check-in - as we did. Chena Huts features 14 luxurious villas complete with private pools and decks.

If you're looking for a way to break up the long flights getting to the Indian Ocean, stopping over in Dubai is an excellent option. And why not create the ultimate honeymoon combination by combining any of the aforementioned resorts with a stay at Burj Al Arab?
Burj Al Arab's Club One-Bedroom Suite
The Club One-Bedroom Suite at Burj Al Arab is an over-the-top and utterly unique accommodation that you won't find anywhere else in the world. Spread across two levels, this suite boasts a spacious bedroom and bathroom upstairs, as well as a separate study. Downstairs, you'll find a lavish living room, bar, and dining area, all framed by floor-to-ceiling windows with stunning views of Dubai's skyline. The resort's discreet butler service, room service, and daily romantic surprises make for an unforgettable experience. We also adore the stunning main pool area and exceptional restaurants. Burj Al Arab is a great spot to decompress for a few days after a long flight and a big wedding.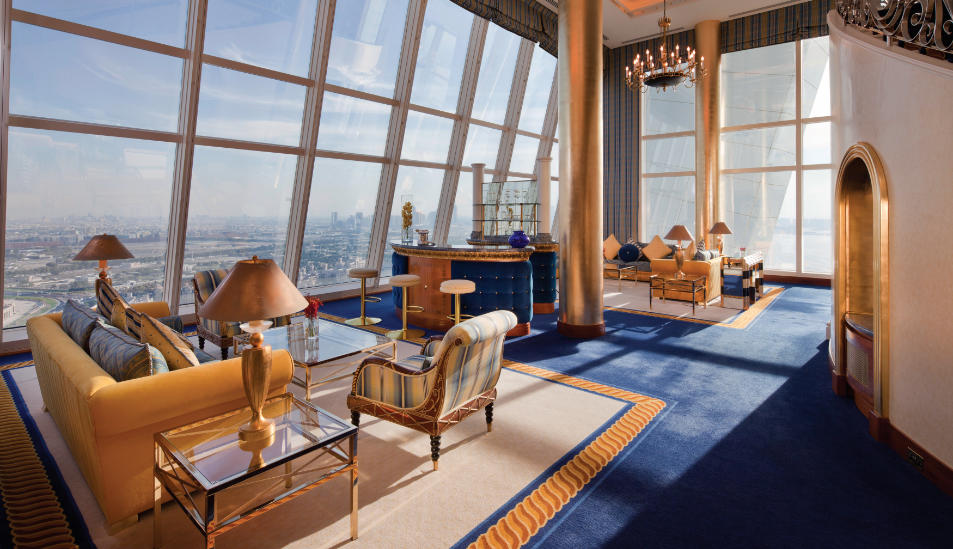 Best Desert Resort Experience
Adding a desert experience to your honeymoon can bring an exciting and diverse element to your trip, and Abu Dhabi is the perfect place to do so. The Liwa Desert, located in The Empty Quarter, is home to some of the most awe-inspiring desert landscapes in the world.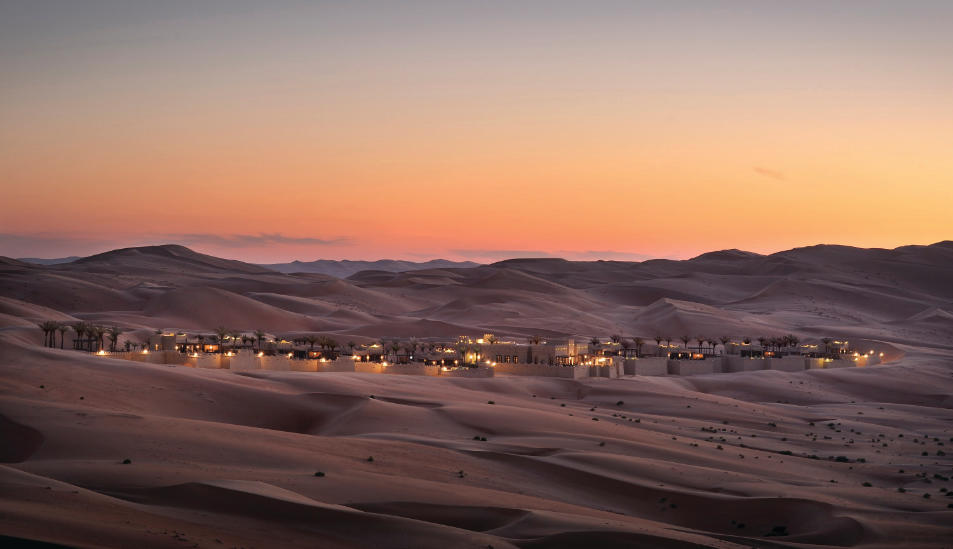 Qasr Al Sarab's Royal Pavilion Pool Villa
Situated amidst breathtaking sand dunes, Qasr Al Sarab offers a range of exhilarating activities, including dune bashing, camel riding, falconry, desert hikes, and archery, among others. These experiences add a fun-filled and uniquely beautiful romantic element to your desert getaway. The Royal Pavilion Villas, which are located over a quarter mile from the resort, are for adults only and provide the ultimate in Abu Dhabi luxury, with the privacy and intimacy of a remote desert location.
At Linara Travel, we have specially negotiated rates and amenities at all of the above properties. We are passionate about helping make your honeymoon an unforgettable dream come true!