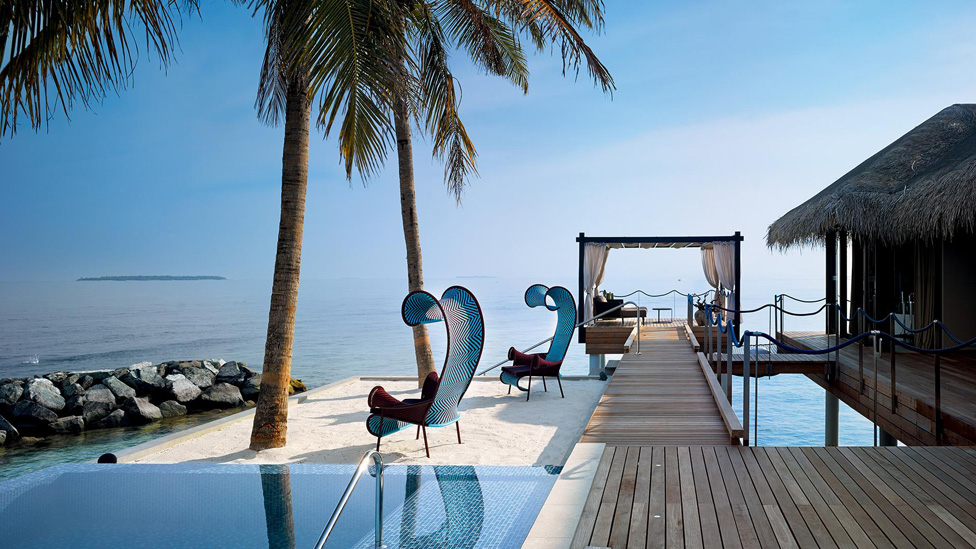 #4 – "The Romantic Escape" - The Romantic Residence at Velaa Private Island
Step into luxury at The Romantic Residence, a stunning freestanding overwater villa accessible by boat. The spacious 1-bedroom villa measures over 6,400 sq. ft. and features a 50 ft long pool, a private sand area on the deck, a gym, spa treatment room, jacuzzi bathtub, and living room. The exceptional service and cuisine at Velaa are sure to enhance a romantic getaway.
#3 – "The Serene Sanctuary" - The Reserve Villas at Soneva Jani and Soneva Fushi
Discover the ultimate overwater villa experience at the Reserve Villas of Soneva Jani. The Reserve Villas are either 1 or 2-bedrooms between nearly 6,000 sq. ft. (1-bedroom) and 8,300 sq. ft (2-bedroom). These unique villas boast a retractable roof in the primary bedroom, a waterslide from the upper level into the lagoon, a large swimming pool, enormous deck area, living room, and kitchen. Soneva Jani is a popular choice for honeymoons and is known for its exceptional service and amenities. Soneva Fushi, the sister resort of Soneva Jani, also offers a few similar overwater Reserve villas for a similarly luxurious experience.
Discover more...at Soneva Jani and Soneva Fushi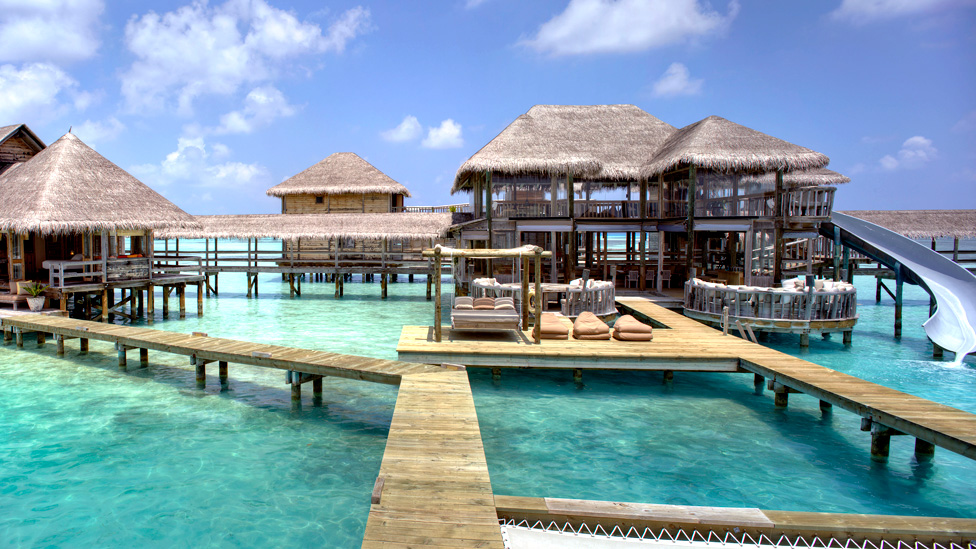 #2 – "The Barefoot Lovers Den" – The Private Reserve at Gili Lankanfushi
Experience pure barefoot luxury with a side of adventure at The Private Reserve, the largest freestanding overwater villa in the world, boasting 18,000 sq. ft of pure relaxed luxury. Arrive in style via a private yacht, attended by your personal butler, ready to fulfill your every desire. The villa features 4 spacious bedrooms, a shimmering swimming pool, fully equipped gym, spa treatment room, and a sprawling central living area complete with movie theater. But the fun doesn't stop there - dive into the crystal-clear waters with a thrilling water slide from the upper level into the lagoon. Enjoy the ultimate blend of privacy, impeccable service, and limitless space, perfect for a family gathering or a fun-filled trip with friends.
#1 – "The Underwater Dream" - The Muraka at Conrad Maldives Rangali Island
A one-of-a-kind experience not found anywhere else in the world. This luxurious villa, located on its own private jetty, boasts a unique blend of overwater and underwater living. The underwater level features a glass-encased bedroom, lounge, and bathroom that offer breathtaking views of the marine life passing by. The upper level, reachable via elevator or staircase, offers a spacious living and dining room, bar, two bedrooms, a pool, and gym. During my stay, I was in awe of the mesmerizing underwater environment and was able to see a variety of marine life including several species of reef shark. My stay at The Muraka was truly unforgettable and the Conrad Maldives Rangali Island provides the perfect base for a once-in-a-lifetime experience of snorkeling with whale sharks.